Shelton eliminates Popyrin 6-3, 7-6, 6-4 to reach Aussie Open 4th round
Ben Shelton just twenty years of age, had never left the United States prior to his sojourn to Australia. He began last season ranked #573 ended it #96 and is currently at a career high of #89.
The 6'4 lefty won the NCAA Division 1 championships as a sophomore at the University of Florida and decided to turn pro following impressive wins over former world #21 Lorenzo Sonego and then world #5 Casper Ruud last August at the Cincinnati Masters.
At the ASB Classic earlier this month, he took out world #44 Sebastian Baez. Shelton is coached on the road by Dean Goldfine and his father Bryan, who reached a career high ranking of #55 and since 2012, has coached the Florida Gators men's team.
Alexei Popyrin is just twenty-three years old and playing inspired tennis at his home slam. After a dismal 2022 season during which he won a meager five matches, the 6'5 powerhouse has recommitted to the sport and it's clearly paying dividends.
With one career title and wins over numerous top ten players including Marin Cilic, Stefanos Tsitsipas, Grigor Dimitrov and Felix Auger-Aliassime, much was expected from the Sydney native with this his third time in the third round. Popyrin reached a career high rank of #59 but is currently #113.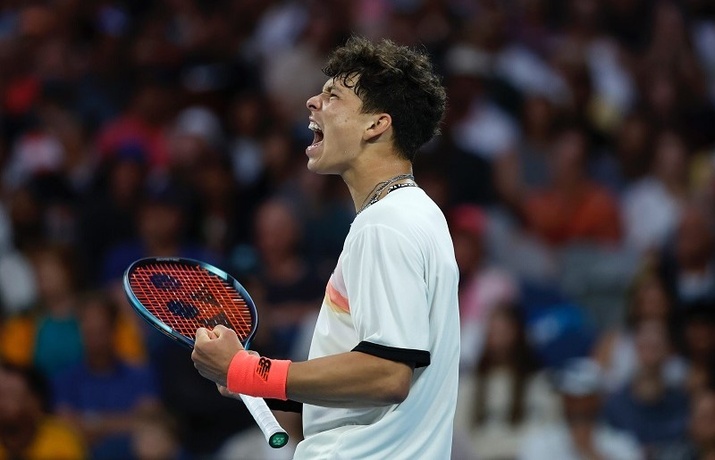 He began the current season at Adelaide 1 with a straight sets win over Auger Aliassime before losing in three tight sets in the quarters to Yoshihito Nishioka. The following week at Adelaide 2, he lost in the opening round 5-7 in the third to fellow Aussie, Thanasi Kokkinakis.
To reach the third round he won two five setters, the last against world #9 and reigning Indian Wells champion, Taylor Fritz. This was their first tour level meeting with a coveted spot in the round of 16 up for grabs.
Shelton served first and though he faced two deuce and break point, held with three aces, the last on game point. Popyrin bolted out of the gates making 5/5 first serves including an ace out wide and held easily to 15 to level.
The American opened and closed the third game with aces while Popyrin opened with an ace and closed with a fantastic inside-out forehand for 2-2. Shelton opened the 5th with an ace up the tee and closed with a crosscourt forehand. Popyrin returned the favor with an ace on the first point but after four forehand errors, dumped serve when Shelton crushed the forehand pass.
The American beaming with self-belief, struck three winners off the ground to consolidate the break at love for a commanding 5-2 lead. The Aussie serving with new balls went 6/6 on first serves including two consecutive aces and held to 30 for 3-5. Shelton made 4/4 first serves and with a spectacular slice backhand drop shot and a wicked forehand down the line, secured the set 6-3.
Popyrin served first in the second and with an ace out wide, held to 30 for 1-0 while Shelton in a groove on serve, made 4/4 first serves and held at love to level. The Aussie basking in the support of the partisan crowd, held to 30 for 2-1 with an ace out wide and an overhead smash.
Shelton missed 4/6 first serves including a double fault but with an ace up the tee, an overhead smash and an inside-out forehand winner, held to 30 to level. Popyrin continued to misfire with the forehand and faced three break points yet held with an ace and two unforced errors from Shelton.
The home crowd crossed the line when they began applauding Shelton's missed serves. The American as an elite collegiate player was all too familiar with boisterous crowds. He donated four unforced errors and faced two deuce and three break points yet managed to hold  for 3-3 with three consecutive winners including his 8th ace.
Popyrin opened the 7th with an overhead smash and an ace out wide and held at love for 4-3 while Shelton opened with a double fault but following two massive forehand winners, held to 15 to level. With the majority of the rallies under nine shots, the Aussie continue to uncork on serve and with his 9th ace, held at love for 5-4. Shelton serving to stay in the set, opened with an ace out wide and with another held to 15 to level.
Popyrin full of confidence and conviction, struck a monster inside-in forehand and another ace to hold at love for 6-5. Shelton serving to force the breaker, embraced the pressure making 5/5 first serves for 6-6.
Popyrin opened the tiebreak with an ace up the tee while Shelton leveled with a well-placed serve out wide. The American led 4-1 but saw his lead evaporate following two missed returns. With an exquisite forehand drop shot and a colossal second serve, the young American clinched the breaker 7-4.
Shelton served first in the third and with spot serving and another drop shot, held at love for 1-0. Popyrin committed three unforced errors but with a huge serve up the tee and an ace out wide, held to level.
Shelton opened the third with an incredible inside-in forehand and once again held at love when his opponent overcooked the return while Popyrin struck three winners including another ace and held easily to 15 for 2-2.
Shelton continued to employ the drop shot to great effect and though he gifted another double fault, held to 15 for 3-2. Popyrin regularly charged the net and it paid dividends as he held to love for 3-3 with a crosscourt forehand volley.
Shelton returned the favor with interest hitting three winners including two consecutive aces to hold at love for 4-3. The Aussie made 5/6 first serves and with a let cord winner, held to 30 for 4-4 while Shelton struck two powerful groundstroke winners and a potent serve up the tee to lead 5-4.
Popyrin serving to stay in the match, opened with a monster serve out wide but with a mishit overhead and forehand, faced double match point and conceded it with another netted forehand.
After a little more than two hours, the American upstart found himself in the fourth round of a grand slam. He finished with 12 aces, three double faults and won an astonishing 87% of first and 66% of second serve points and never dropped serve saving 4/4 break points.
It was a poised, confident performance under extremely difficult conditions. Standing in his way of the quarterfinals is fellow American, J. J. Wolf. Wolf dispatched Aussie, Jordan Thompson in the opening round, Diego Schwartzman the 23rd seed in the second and fellow American Michael Mmoh to reach the round of 16. The twenty-four year old from Cincinnati, Ohio, is currently ranked #67 and has yet to play Shelton. With a coveted spot in the final eight on the line, this is one to watch.




#Shelton #Eliminates #Popyrin #Reach #Aussie #Open #4th