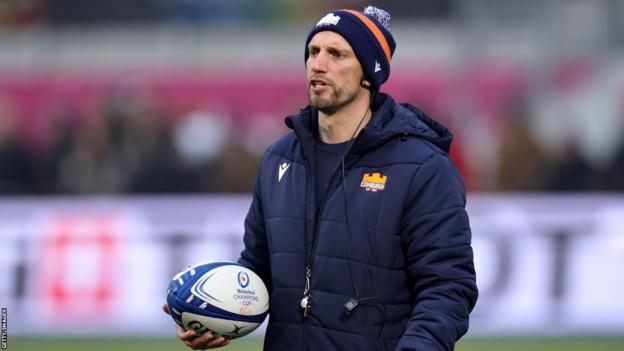 Mike Blair says he is "taking a breath" by stepping down as Edinburgh head coach before he decides his next move.
The former Scotland scrum-half says he has made no plans about his future.
"I don't have anything lined up post this contract – I know that some people might see it as being risky. I'm taking a breath," Blair told the BBC Radio Scotland Rugby Podcast.
"It was a big decision for me this because it's a huge privilege for me to be in the job.
"Some people might think it's naive or silly to have turned down this role, but I believe it was the right thing for me from a personal point of view but also from a coaching side of things."
Blair informed Scottish Rugby Union chief executive Mark Dodson and Edinburgh managing director Doug Struth "two or three weeks ago" he did not wish to extend his stay, having sought advice from Scotland coach Gregor Townsend and his defence coach Steve Tandy among others.
The former British and Irish Lions half-back says the "all-encompassing" nature of the job had diminished his enjoyment of it.
"It's something that's been on my mind for a fair amount of time," Blair explained.
"It comes to me as I leave the training field most times. When I'm on the training field I've generally got a big smile on my face, I've got a lot of energy about me and I love what I've just done.
"As I start to leave the field the thoughts start coming into my head that now the real work starts in terms of recruitment stuff, academy stuff, player release or Super 6, all these different bits. It probably just came to a point where it was pretty all-encompassing.
"The beauty is I'm able to be at home and see the kids and my wife Viv in the evening. I wouldn't be away as much as I was with Scotland in terms of blocks of periods, but I also found that I wasn't necessarily present the whole time.
"I was there in person but not necessarily in mind because there was so much of the other bits of the job that I had to get on top of and make decisions on."
Blair says there have been no discussions with Townsend about re-joining the Scotland backroom team he was part of from from 2016 to 2021 before he replaced Richard Cockerill as Edinburgh head coach.
Capped 85 times by Scotland, he expects to revert to being an attack coach in the immediate future but does not dismiss the possibility of returning to a head coach role in the future.
"It's not something I've ruled out coming back to," Blair said.
"This has been a harum scarum-type period. I've not had huge periods of reflection of what I've done well and what I could do better. I'd like that period to work that out.
"My passion, my buzz, my enthusiasm comes around on-the-pitch stuff, so that's where the decision was made."
The Rugby Scotland Podcast is available every Tuesday from 20:00, find it on BBC Sounds.





#Mike #Blair #Edinburgh #exit #ExScotland #scrumhalf #explains #contract #decision