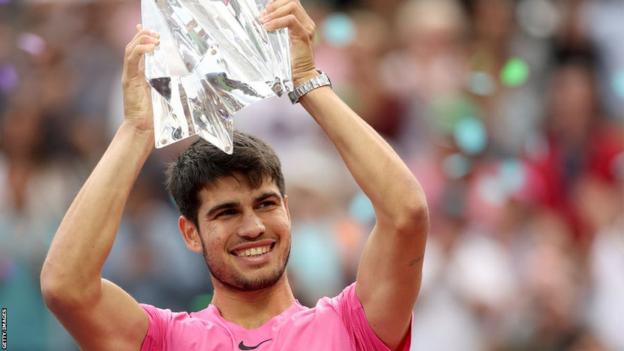 If anybody outside the tennis world had forgotten about Carlos Alcaraz after an injury-hit few months, the Spanish teenager has quickly reminded them of his precocious talent.
The 19-year-old US Open champion is back on court, back to his best and back as the world number one.
But if Alcaraz does not defend his Miami title this fortnight, and the 1,000 ranking points which come with victory, he will be overtaken again at the top of the world rankings by Novak Djokovic – even though the 35-year-old Serb is not playing in Florida.
Their duel for the ATP top spot – which is calculated by points accrued over the previous 52 weeks – is set to continue over the coming months.
And the dominant manner in which Alcaraz swept to the prestigious Indian Wells title last week fuelled thoughts about a tantalising battle with Djokovic for the sport's biggest prizes in 2023.
"Novak is one of the best players in the world. That's obvious. If you want to be the best, you have to beat the best," said Alcaraz.
"I wish to play against him many more times."
For now, Alcaraz – and the rest of us – must wait a little longer…
On-court battle must wait until clay
Frustratingly, the battle between Alcaraz and Djokovic is developing without both present at key tournaments and little chance for the pair to go toe-to-toe on the court.
When Djokovic swept aside a raft of younger opponents to win a record-equalling 22nd Grand Slam men's title at the Australian Open, it led to the obvious questions about why the next generation could not stop him.
Djokovic was outlandish in his brilliance, showing all the facets of his greatness – technique, athleticism, mindset – on his way to another victory in Melbourne.
Things might have turned out differently had Alcaraz, who was ruled out with a hamstring injury, been able to play. Then again, things might have turned out differently had Djokovic been able to play at the US Open and Indian Wells.
Djokovic is still not allowed to enter the United States because he is not vaccinated against Covid-19, meaning he is also missing in Miami.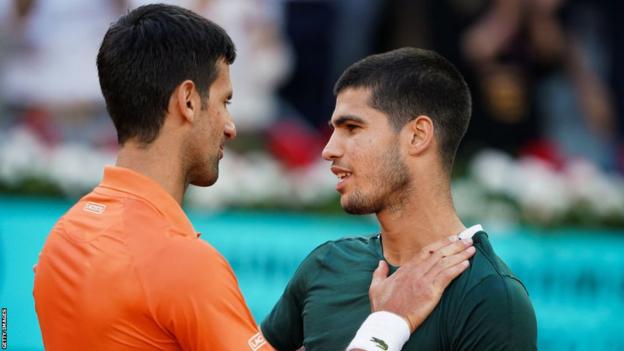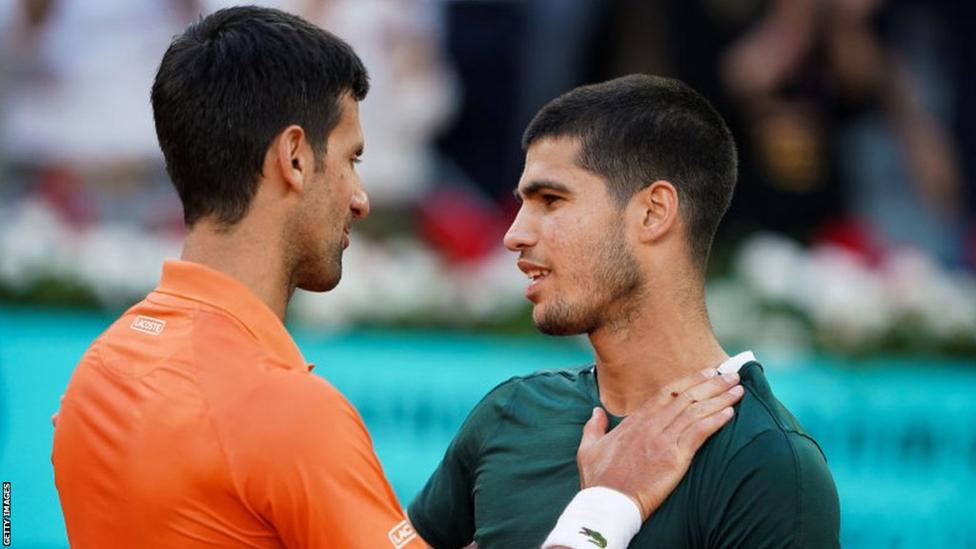 "I congratulate Alcaraz, he absolutely deserves to come back to number one," Djokovic told CNN this week.
"It's a pity I wasn't able to play Indian Wells and Miami, I had plenty of success there, but is a conscious decision I made."
Djokovic is set to return to the tour at Monte Carlo next month and, if the pair maintain fitness and form, appetising showdowns between the pair could happen on the European clay courts.
Throw Rafael Nadal – the long-reigning 'King of Clay' who has been injured since the Australian Open – into the mix and it could culminate in a French Open to savour.
"I'm a professional tennis player, but also I'm a huge fan of tennis and I always want to watch the best players in the world, like Rafa, like Djokovic," said Alcaraz.
"In every tournament I want them to be playing and I hope we get them back soon."
Alcaraz picks up where he left off
The buzz around Alcaraz cut through to the sporting mainstream when he landed the US Open title in September and became the youngest men's world number one in history.
His momentum was stalled by a torn abdominal muscle which ended his 2022 campaign, followed by the problem which ruled him out of the season-opening major in Australia.
Since returning to the ATP Tour last month, Alcaraz has picked up where he left off.
Playing the fearless brand of tennis which continues to win plaudits and admirers, Alcaraz has won two of the three tournaments he has played – Buenos Aires and Indian Wells – while losing in the final to Britain's Cameron Norrie at the other in Rio de Janeiro.
"I have no doubts about my shots. I feel really comfortable on court. I really trust in every shot that I hit," said Alcaraz.
"That's why I'm playing a great level, because if I miss, I don't mind. I don't care about the miss. I'm trying to hit 100% in every shot and having no doubts."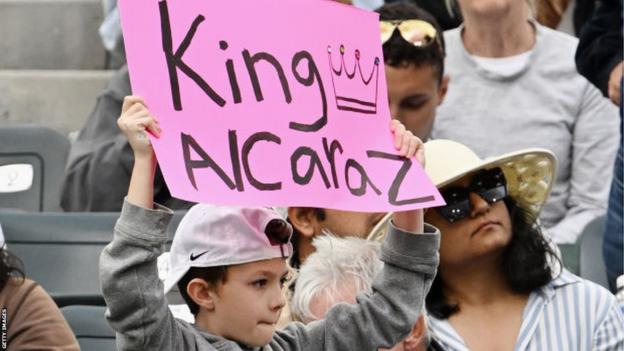 The destructive manner in which he dismantled former world number one Daniil Medvedev to win in Indian Wells was a particularly powerful statement.
Medvedev came into the final on the back of a 19-match, three-title winning streak, but even the Russian – who has been dubbed a 'human backboard' because of his defensive skills – could not stop Alcaraz finding a way through from the baseline.
Aggressive returning produced excoriating winners and pushed Medvedev deep on the court, which in turn allowed Alcaraz to use his deft hand skills at the net to inflict further punishment.
The quality of Alcaraz's all-round performance led American legend Chris Evert to declare he has "no weaknesses whatsoever".
"I always say that you can improve everything a little bit more," Alcaraz said after arriving in Miami.
"You have to improve, you have to get better every day. That is why the big players, the 'Big Three' for example, did throughout their careers, improving a bit every day."





#Miami #Open #Fearless #Carlos #Alcaraz #fuels #prospect #Novak #Djokovic #duel