Moment of madness on Monday night sees Abdoulaye Doucoure sent off after hitting Harry Kane in the face in Everton's game against Tottenham.
After a goalless first half, things really took a turn on 60 minutes when Abdoulaye Doucoure lost his head.
A rush of blood to the head led to a straight red card as he came together with Harry Kane following a tussle near the touchline and his hand hits the Spurs player in the face, giving the referee no choice.
Seamus Coleman asks Doucoure what he was thinking as he heads off down the tunnel, but Sean Dyche felt frustrated by Harry Kane's reaction, claiming he's making the most of it.
Kane did and was given gets a yellow card for it. But Adoulaye Doucoure had to go off by the letter of the law.
A moment of MADNESS from Abdoulaye Doucouré and Everton are down to ten men! 😲🟥 pic.twitter.com/dwQ81QxQ3O

— Sky Sports Premier League (@SkySportsPL) April 3, 2023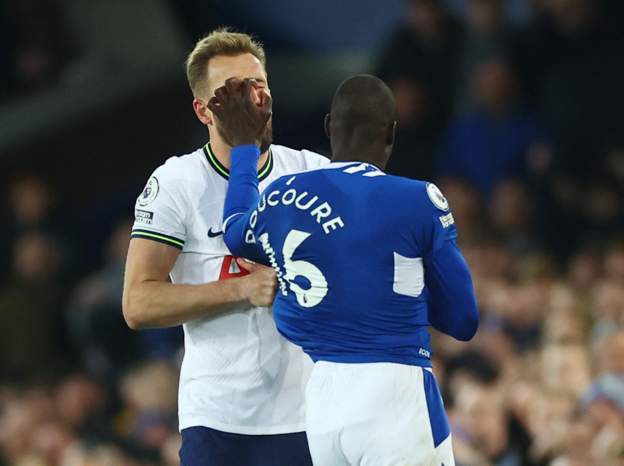 Shamoon Hafez (BBC Sport at Goodison Park): "Had to be a red, no doubt about it.
"Now Everton have an uphill task to get anything out of this game. Half an hour to survive."
Sky Sports' Sam Blitz: "Complete and utter idiocy from Doucoure, who was starting to take control of this game.
"No need for him to get involved there.
"Doucoure has been directly involved in Everton's last four goals. He has been such a key figure for the club since Sean Dyche came in.
"Now he will miss a crucial part of this Premier League relegation run-in."
Sky Sports' Don Goodman at Goodison Park: "No, no, no, no!"
"The shame of it is he's been so good at the start of this second half.
"A rush of blood to the head has cost his team. You can't raise your hand like that and he knows it."
Tottenham were warded a spot kick on 66 minutes, Romero just nipping in ahead of Keane to win the ball first and was caught by the Everton defender.
Superb work from Perisic who won a header that knocked the ball back into the danger zone.
Kane stepped up against England team-mate Pickford, and made no mistake, giving Spurs the lead, sending it into the left corner with Jordan Pickford diving the other way.
Don Goodman speaking on Sky Sports: "It's a tough one to take if you're Sean Dyche and Everton, but it all goes back to that red card.
"That's why they're under siege, that's why Spurs are putting pressure on, that's why Michael Keane makes a mistake. But Spurs don't care."
Clinical from Harry Kane! 🎯 pic.twitter.com/swTifLZ5td

— Sky Sports Premier League (@SkySportsPL) April 3, 2023
Michael Keane beat Lucas Moura to the ball and it was a late, reckless challenge by the Spurs substitute, being given a straight red card to make it 10 v 10 for the final few minutes with Tottenham on the back foot.
That was followed up from a sensational strike Michael Keane, who was at fault for conceding the penalty earlier on in the game.
He teed himself up from 20 yards and hit it beautifully into the top right corner.
The point moves Everton three places up to 15th in the Premier League while Tottenham climb to fourth on goal difference, albeit having played two more games than Manchester United in fifth.
MICHAEL KEANE WHAT A STRIKE THAT IS! 🔥🚀 pic.twitter.com/BKfO8tFuXT

— Sky Sports Premier League (@SkySportsPL) April 3, 2023
Everton manager Sean Dyche speaking to Sky Sports: "Michael Keane's been in fine form on the training pitch. He's been training with real clarity. The margins are tight with who you pick.
"The ebbs and flows of the game… I think the whole stadium thought we were going to get a winner. I certainly did. I'm more pleased with the menatality. It's been growing here.
"I'm really proud of the players. We want to play, of course we do, but it starts with hard graft and energy and commitment to the challenge. The shape and the basic fundimentals have to be delivered and I think we're delivering that all the time.
"10 vs 11 is tough enough and then they score a penalty. I thought we were terrific after that. Whatever happened then, I thought 'this ia group that are improving.' Then we score a great goal.
"It's another step in the right direction. It's only a point but it's a meaningful point. I think the mentaility is getting stronger."
Harry Kane appears to be explaining the red card to Pickford & Coleman at full-time 👀 pic.twitter.com/SdzpJZnbSC

— Football Daily (@footballdaily) April 3, 2023
This is what fans said on a moment of madness which sees Doucoure sent off after hitting Kane in the face…
@LozzieMac: OMG, pray for Harry Kane, let's hope he's not out til the end of the season 🙏 Is there a gofundme we can donate to?
@smythy2: Call Kane what you want but Doucoure is a fucking idiot for even getting involved in that
@JamesHa90480373: Defo a red, but what a big girl Kane is.
@TIvesMoody7: How are people complaining about it. No matter who that's on it's a red card
@neillafferty: Imagine throwing yourself around like that. A supposed professional fucking footballer. Okay, Doucoure was daft but that is embarrassing by Harry Kane. England Captain
@LPP2014: Off you go Doucoure lad 👋
@PAULREES10: Has to be red for a push in the face under the football rules. Don't think that push would cause the reaction it got mind 🥱
@HotspurEdition: Doucoure is so, so stupid. You just can't raise your hands like that in todays game.
@harryxafc: Definitely a red card but nowhere near as bad as the commentators are making out
@Benali7378: Only me that thinks if that weren't against Kane it would have been a booking at best. Made a meal of something HE started
@iammrazul: Kane is a shithouse and Doucoure fell for it.
@abwaxy123: I have no dog in the fight but Sky Sports commentators should be calling out Kane throwing himself to the floor and staying down as well as Doucoure raising his hand. It is clear theatrics and not becoming of the England captain
@DJ1MUFC: He didn't even do it deliberately but mabye it was a red. However the reaction of not just Kane but footballers in general are honestly so embarrassing. How are 30 years old and throwing yourself to the ground after being tapped in the face
@TT_1007: The commentators bias… "a blow to the face" 🤣🤣🤣🤣🤣
@sarahhunter25: Kane started that and milked it. Everyone getting the better of them and he doesn't like it. He's the biggest cheat of them all.
@JackSimmons101: Kane is always going to go down easy and milk it, Doucoure has to be smarter. You'll rarely get away with doing something stupid like that.
@BillyBundy: It's a red card regardless of whether he made a meal of it or not
@TonyGre81512007: Harry Kane at it again.. constantly diving around.. but because he's Englands golden boy you won't hear anything about it
@Marco_Ross_10: Doucoure's sent off because that's the rules but the rules are shite. The bigger issue is the 29 year old man diving on the floor because he's been touched in the face 😂 If you did that on a Sunday you'd be laughed off the pitch. How do these lads get away with it every week
@ianhowgate: That just about sums up football right now.
@Mogzy1985: Kane shouldn't go down like that but it's the easiest red card any ref will ever have to give.
@redisthecolour6: Kane lucky didn't have to go to hospital. The way he went down, I thought he'd need emergency care and a scan. But then he recovered a few seconds later. Phew?
@jmrichards23: It's red as you just can't raise your hands like that. Something needs to be done though about the reactions you see every game similar to Kane there. It's unbearable. I grew up watching crunching tackles, nowadays it's who can con the ref the best.
pic.twitter.com/Aj0XPdZTt8

— Joseph Petrassi (@JosephPetrassi) April 3, 2023
Kane got a yellow but for which offence, the foul that denied Everton a break away, the kick out at Doucoure after the foul had been given or the handbags that followed? David Coote is an awful referee & he isn't alone. pic.twitter.com/LwYtYE0Xb9

— Ian Simpson (@ISimpson73) April 3, 2023




#Moment #madness #sees #Doucoure #hitting #Kane #face