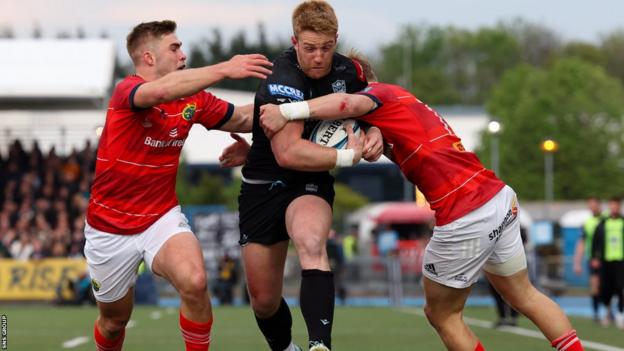 Glasgow Warriors (0) 5
Try:
Steyn
Munster (14) 14
Tries:
Fekitoa, Frisch
Cons:
Crowley2
Munster turned in a steely defensive display to win at Glasgow Warriors and set up a United Rugby Championship semi-final away to Leinster.
Having withstood a whirlwind start from the hosts, Malakai Fekitoa and Antoine Frisch touched down either side of Tom Jordan's red card for a foolish high shot on Connor Murray.
Depleted Glasgow met with more ferocious resistance after the interval before Kyle Steyn broke through, but a late yellow card for Sione Tuipulotu snuffed out home hopes.
It was kitchen sink stuff at Scotstoun, not pretty but pretty enough for Munster. Downright ugly for Glasgow.
It was a huge victory for Graham Rowntree's team, who lost five players to injury, including four for head injury assessments (HIA), a continuation of their recent form on the road in South Africa and an end to a year without loss for Glasgow in their own backyard.
None of that, of course, looked remotely likely midway through a surreal opening quarter for the visitors. They lost Peter O'Mahony to injury after a couple of minutes and then lost the luckless RG Snyman not long after. All night, they lost important players to injury.
A semi-final against Leinster with a full squad to pick from would be daunting, but Munster shipped some heavy losses here, even if the main battle was won.
Two potentially monumental operators on the night were both gone. On top of that, they had no ball. Zero. Glasgow were a bit of a winning machine going into this and they put Munster on the back foot from the off. They won a penalty in front of the sticks and went for touch and a shot at a driven lineout, a well-worn weapon in their armoury all season.
The visitors kept them out. Same story minutes later. A Glasgow penalty in front of the posts, a boot to touch, attacking fury met with defensive resistance. Jack Dempsey got himself over the try-line, but Munster's belligerence won that moment, too, by holding him up.
A psychological lift for sure, but for how long could they sustain this pressure? We never really got an answer to that because everything changed right there, as if a switch was flicked.
From more than 70% possession, try-scoring opportunities and the theft of two of Munster's lineouts, Glasgow were now under the cosh.
And where Munster held out Glasgow, Glasgow could not hold out Munster. First attack and they nailed it and Fekitoa was at the heart of it. His savage hit on Ollie Smith forced the turnover in the first place. When Munster waited for their gap to open it was Fekitoa who got on the end of Crowley's pass to score.
Fekitoa is leaving the club in the summer. If they could reverse ferret on that decision now, they might. Fekitoa was terrific.
'Red was the right colour'
Crowley made it 7-0 and Glasgow looked sickened. There was worse to come for the home side, much worse. Jordan got red-carded for a wholly avoidable shoulder-to-head tackle on Murray. He had time to go low but chose not to. Red was the right colour.
Having lost O'Mahony and Snyman, they also lost Murray to a HIA. Half an hour gone and three go-to guys off the field. Still, Munster put a penalty to touch, were given penalty advantage as Glasgow's discipline broke and Frisch went through. With Crowley's extra, they led 14-0. Instant punishment for Jordan's error.
Glasgow were now missing their 10, and, with a 6-2 split bench and no natural fly-half in reserve, their plight became all the more challenging. Going with just two backs in reserver was always a risk and it backfired.
They held out minutes of Munster pressure at the end of the first half, critical if they were to have any hope of playing their way into it. Munster were having none of that. They invited trouble on to themselves by coughing up ball, but for the longest time, when Glasgow piled on the heat, it was just a repeat of what happened at the beginning of the first.
Great field position, enough ball, a wave of optimism in Scotstoun, but all snuffed out by fierce Munster defence. Eventually, they broke through, Steyn scampering in up the left. Stafford McDowall missed the conversion.
Glasgow had to be foot-perfect and ruthless from there, but their error count cost them. A lineout was lost when it had to be won to ask more questions of Munster. Scotstoun groaned as one.
Before the end, Tuipulotu was binned for a block near his own posts and that was that.
Glasgow have been an attacking wonder all season. They scored four tries in 40 minutes at Thomond Park a month ago. They scored 31 unanswered points that night, before Munster took the dirty look off the scoreboard.
At Scotstoun, revenge. Munster must patch up their squad to take on Leinster. For Glasgow, their URC race is run. It's all about Toulon in the Challenge Cup final now.
Rowntree proud of 'huge performances'
Munster head coach Graham Rowntree on Viaplay: "We've got a few bodies that will be sore after that, and we'll see who we can get on the field next week.
"I'm immensely proud. We dug in there; this is a hugely difficult place to come and win, against a team in form.
"Some huge performances from a lot of guys in our team, and there's so much we can do better.
"We've got huge momentum now. We've not had it easy this season, but we've worked hard. We'll have to be better to win next week."
Glasgow head coach Franco Smith on Viaplay: "We should have scored in the first 25 minutes. We didn't get the reward for the pressure we built.
"Then the red card, I'll never use that as an excuse, because we prepare for that. Second half, we just couldn't breach them. I'm really proud of the players' effort and belief. We'll take lessons, but well done to Munster.
"We will rest and have a go at finishing the season as good as we can."
Glasgow Warriors: Smith, Cancelliere, Tuipulotu, McDowall, Steyn, Jordan, Horne; Bhatti, Matthews, Z Fagerson, Cummings, Gray, M Fagerson, Darge, Dempsey.
Replacements: Brown, McBeth, Berghan, Du Preez, Bean, Vailanu, Price, Jones.
Munster: Haley, Nash, Frisch, Fekitoa, Daly, Crowley, Murray; Loughman, Barron, Archer, Kleyn, Snyman, Beirne, O'Mahony, Coombes.
Replacements: Scannell, Wycherley, Salanoa, Wycherley, Hodnett, Casey, Healy, Kendellen.


#URC #Glasgow #Munster #Heroic #defence #sends #visitors #semis