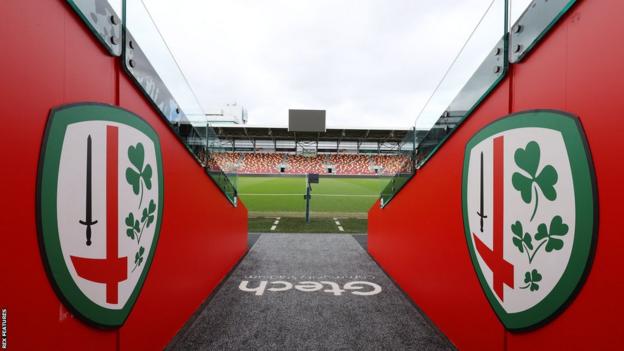 London Irish have been given a deadline of 30 May to complete their takeover or risk being suspended from the Premiership next season.
The Rugby Football Union (RFU) has set the deadline for the deal's approval.
The club otherwise has to show evidence it has the financial means to continue through the 2023-24 season.
Owner Mick Crossan is in protracted talks to sell the Exiles, with an American consortium in negotiations to buy the club.
Irish finished fifth in the Premiership this season, the club's highest league finish since the 2008-09 campaign.
Yet off the field there has been growing concern over the club's financial future.
Player wages were paid late in April, drawing comparisons to Worcester and Wasps, who both collapsed financially and entered administration last autumn.
But director of rugby Declan Kidney said on 4 May the club had been given "a lot of assurances" by its prospective new owners, and staff trusted the buyout would "come to a positive resolution for everybody involved here".
The RFU said the timescale had been set to "avoid a scenario where the club enters insolvency mid-season, with the corresponding and substantial impact that has on players, staff and fans, as well as on the remainder of the league".
"This deadline was set to give enough time for the buyers to provide the information needed and for the transaction to complete," the RFU added.





#London #Irish #Premiership #club #sale #deadline #risk #suspension