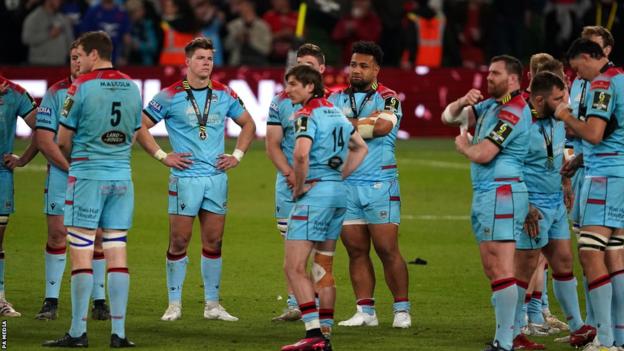 Long after Glasgow had made a disconsolate exit from the arena at the Aviva on Friday, the Toulon party raged on.
Jiuta Wainiqolo, one of the try-scorers, whooped and hollered with the visiting fans, launching himself into the crowd for selfies.
Baptiste Serin, a double try-scorer, did the same despite hobbling around on crutches.
The veteran winner Mathieu Bastareaud, adding a Challenge Cup to go with his three Champions Cups, celebrated as madly as anyone even though days like these are not uncommon in his world.
And then there was Sergio Parisse, the great man winning again before his retirement. Parisse did the selfie thing, too. Some of his team-mates picked him up and plonked him on their shoulders with the trophy in his hands, like a king being brought around on a throne.
Later, Parisse and his wife, Silvia, lay down on the pitch and stared up at the Dublin sky. None of us could know what they were saying to each other but it was a lovely moment. Words weren't necessary at that stage in any event. Everything we needed to know was clear from the contented smile on his face.
Many of the Glasgow players stood in quiet contemplation as Toulon were presented with the trophy. Franco Smith's boys had said beforehand that, win or lose, they wanted to leave that pitch with no regrets about how they'd played and with a feeling that they'd given it their best shot.
In itself, it would have been small consolation, but they denied themselves even that morsel of comfort in a final that got away from them after 18 minutes when they fell 14-0 behind and was more or less over after 25 minutes when they trailed 21-0.
Pretty much every part of their game collapsed under pressure. They lost an early try to a terrific piece of opportunism from Serin but the second and third scores – the ones that did them in – were down to their own colossal errors at the lineout.
Glasgow may have still lost had they delivered close to their best stuff but they'll never know the truth of that. That's where the pain will come from. They did die wondering, the very thing they said they would not do.
Toulon were terrific, gorging themselves on Glasgow's frailties and winning in a hack canter. They were propelled by class but also by desire. Seven of their players were around in 2020 when they lost a Challenge Cup final to Bristol by 13 points. A dozen of them were there last year when they lost the final to Lyon by 18 points.
We remember Toulon's three Champions Cups in a row – their days of the Galacticos – but of the current crew only Bastareaud was involved back then. The rest of them have only known disappointment with their club.
A rage for victory coupled with an obvious class was a heady mix on Friday. Glasgow have made progress this season but they're only in the foothills of their development. They did well to get to the final, but Toulon showed them how far they still have to go.
The fear for Glasgow was that if Toulon clicked then they wouldn't be able to live with them. They have had a poor domestic season in France, losing a dozen games, currently sitting eighth in the table and almost certainly out of the play-offs.
On their day, though, they have the gears to beat most teams. They've overcome Toulouse, who are top, Stade Francais, who are third, and Lyon, who are sixth.
They fed off the angst of those losing finals, the stick they've been getting for their domestic form and the Parisse Effect. They got themselves to the pitch of the final from the first whistle.
Even before it started to go badly wrong for Glasgow there was a lack of emotional intensity about them. They looked passive when they needed to be explosive.
'Gray's omission hard to sell'
Franco Smith said that criticism of his team selection was unfair, but it wasn't.
He said that he went with JP du Preez over Richie Gray based on all the evidence available to him, and that he went with Sione Vailanu over Rory Darge on the same basis. That was a hard argument to sell and there won't be many buyers.
Gray is an elite lineout operator who calms his thrower with his size, athleticism and authority. A functioning set-piece has been the foundation stone of Glasgow's progression under Smith. Removing a vital cog in that was always bizarre. Nothing that Smith said before or after explained his thinking on the Gray call.
If he was injured and unable to play a full part, Smith didn't say that. If there was something amiss with Darge then he didn't elaborate on that either. Darge's raw aggression was lacking. Both men came on, as did Johnny Matthews, but the final was done by then.
Fraser Brown had a rough night but the woes of the lineout cannot be laid squarely at his door. Look at the fatal lineouts. There wasn't just one issue, there were multiple issues. It was a collective malaise.
Smith handed Toulon a present when he left out his best lock and did mortal damage to his own lineout in the process.
What can Glasgow do but learn, as Toulon learned from their own calamities in finals. They need to take the good things from the season – there are many – and go again.
Most winning teams at this level have disappointment as their driver. Toulon are the classic example of that, but far from the only one.
Smith has many months to wait before it all starts again. A blessing and a curse.
His recruitment will be interesting. The haves and have-nots nature of Friday was illustrated by many things but Dan Biggar leaving the action early and being replaced by the wonderful Kiwi, Ihaia West was a stark example.
A 100-cap Grand Slam winner goes off and a Champions Cup winner (with La Rochelle last season) comes on. Those are riches that Smith can only dream of as he plots Glasgow's future.


#Challenge #Cup #final #Glasgow #die #wondering #show #Toulon