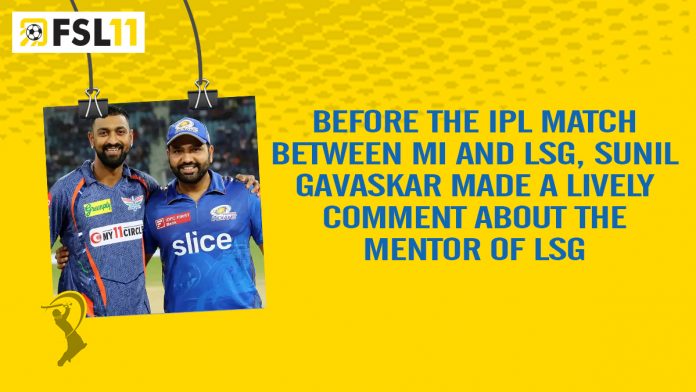 In the Eliminator of the ongoing Indian Premier League (IPL), Lucknow Super Giants (LSG) will face the formidable Mumbai Indians (MI) as they strive for their first-ever title in this edition. Despite the absence of captain KL Rahul, Lucknow Super Giants managed to revive their campaign and secure the third position in the IPL 2023 standings. As the IPL 2023 approaches its decisive phase, the renowned cricketer Sunil Gavaskar expressed high praise for LSG mentor Gautam Gambhir.
Gavaskar lauded Gambhir, the former Kolkata Knight Riders (KKR) skipper, for his influential role in nurturing the younger generation of cricketers in the prestigious league. Emphasizing the significance of having Indian coaches in achieving IPL success, Gavaskar commended Gambhir for molding the future stars. According to the batting legend, Gambhir's guidance has played a key role in the development and growth of players such as Ravi Bishnoi, Ayush Badoni, and Naveen-Ul-Haq at LSG.
"Look at the remarkable progress made by Rinku Singh under Chandu Pandit, the impressive resurgence of Venkatesh Iyer and Varun Chakravarthy, and the evolution of Nitish Rana as a captain. Under the mentorship of Gautam Gambhir, observe how Ravi Bishnoi, Ayush Badoni, and Naveen-Ul-Haq are flourishing, along with the contributions of Ashish Nehra and Hardik Pandya, who consistently identify new players of the match.
This is mainly due to the seamless communication and accessibility enjoyed by domestic Indian players in these teams. However, it should be noted that overseas champions who possess a special ability to guide and mentor young players are rare exceptions and not the norm," Gavaskar wrote in his Sportstar column, highlighting the impact of Gambhir's coaching on the emerging talents.


#IPL #match #LSG #Sunil #Gavaskar #lively #comment #mentor #LSG #Cricket #News #Match #Predictions #Previews #Stats