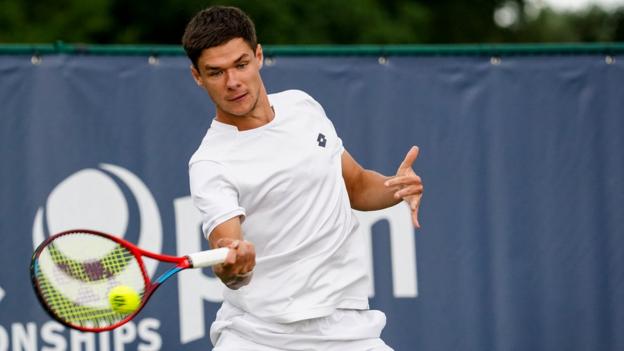 Polish tennis player Kamil Majchrzak has been banned for 13 months after accepting he committed a doping offence.
The 27-year-old, who reached a career-high ATP singles ranking of 75th in February 2022, tested positive for three banned substances.
He was tested in Sofia, Japan and Seoul in September and October last year, and by Polish officials in November.
Majchrzak said an isotonic drink had contained the prohibited substances.
The International Tennis Integrity Agency (ITIA), which announced the ban, accepted Majchrzak "had not knowingly or intentionally" committed an offence.
The ITIA said Majchrzak acknowledged tennis players were aware of the risks of contaminated supplements.
Majchrzak has been serving a provisional suspension since 30 November and can return from his suspension on 29 December 2023.
Writing on Instagram, he said it had been "really unbearable and painful" to learn he had failed a test, describing the process since as a "cruel experience".
He explained he had been using the isotonic drink from late September of last year, but said the concentration of the substances detected would have needed to be "several hundred and several thousand times higher than what was found in my urine samples to even begin to have any effect".


#Kamil #Majchrzak #Polish #tennis #player #suspended #months #doping #offence