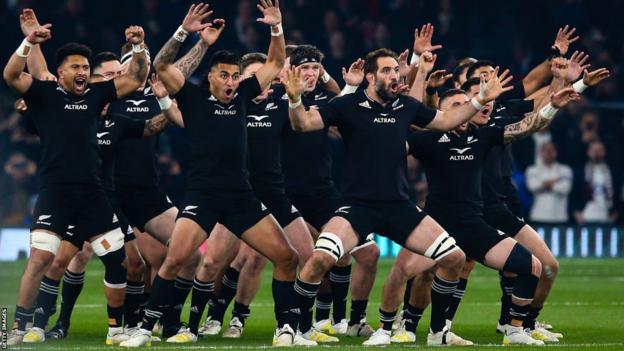 Rugby's leaders are aiming to make a decision on the sport's future global calendar by October after talks in London this week.
A two-tier men's tournament in July and November has been proposed for alternate years.
It is also understood the Six Nations Championship could lose one of its rest weekends to accommodate a longer November international window.
World Rugby said "player welfare" was high on the agenda.
Representatives from World Rugby, the British and Irish Lions, the Six Nations, and the Rugby Championship, along with stakeholders from International Rugby Players (IRP), the unions and professional leagues all attended.
Talks are expected to continue, and any decisions will have to be ratified by the World Rugby Council in October.
Despite World Rugby stating "promotion and relegation being a goal for the global calendar", it is not thought it will be included in the early years of the competition, which will take place during years without a World Cup or a British and Irish Lions tour.
The Six Nations will continue to be a standalone tournament without any promotion or relegation.
Concerns in the sport have grown over the amount of rugby some internationals are expected to play with ever-expanding domestic and international calendars.
The governing body's 'Regulation 9' is the current framework for the release of players by clubs for international fixtures.
There is currently meant to be a three-weekend international window in November, but increasingly some unions have added a fourth fixture to this period, leaving grey areas for unions and clubs regards player release.
This week IRP tweeted its views on the talks, saying: "Any global season must have opportunities for Emerging Nations and must put player welfare first and foremost."
IRP has also called on World Rugby to standardise player rest periods and introduce a maximum match quota for all players worldwide.
Regulation 9 was confirmed as "under review" by World Rugby.
It added: "Central to the development of the men's calendar is optimising player release for players moving between the club and international environments, overall welfare optimisation including rest periods, and a greater level of clarity around fixtures for high-performance unions and emerging nations including with the Six Nations and SANZAAR [Rugby Championship] teams."








#Rugby #leaders #decide #future #global #calendar #October