Ben Stokes and Harry Brook will aim to help England into a first-innings lead on the third morning of the second Ashes Test at Lord's.
England punched back on an absorbing day two, with Australia losing their last seven wickets for 100 runs as they collapsed from 339 for five overnight to 416 all out.
Steve Smith still brought up his 12th Ashes century, but the hosts quickly set about eating into the deficit and Ben Duckett led the charge with a fine 98.
Australia's tactic of bowling short produced a gripping final session and accounted for Duckett, Ollie Pope and Joe Root.
But Stokes calmed the storm with a mature unbeaten 17 from 57 balls and will hope to push England on from 278 for four alongside Brook (45no).
View from the dressing room
Comparisons to 2005 you say?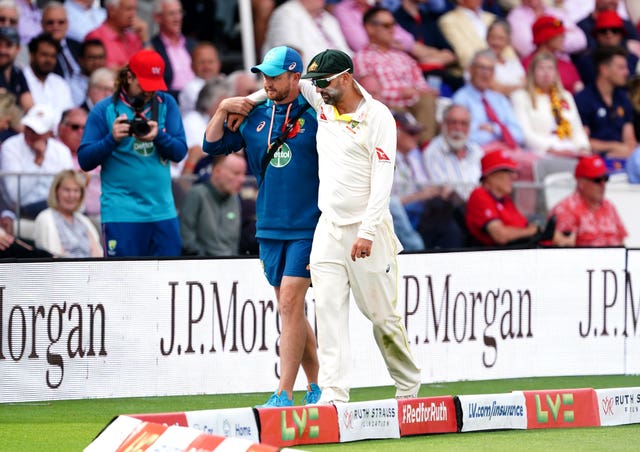 Nathan Lyon's calf injury may not just be match-defining, but could have a significant say on who wins the series.
In his 100th consecutive Test, Lyon raced in from the boundary rope to try and catch Duckett's lofted pull shot in the 37th over of England's innings, but halted his stride. He immediately felt the back of his right calf and had to be helped off by a member of Australia's medical team.
Lyon limped back to the pavilion and there are fears about his future involvement in the rest of the Ashes.
It brought back memories of Glenn McGrath's busted ankle on the eve of the second Test in the 2005 series.
Harry hanging high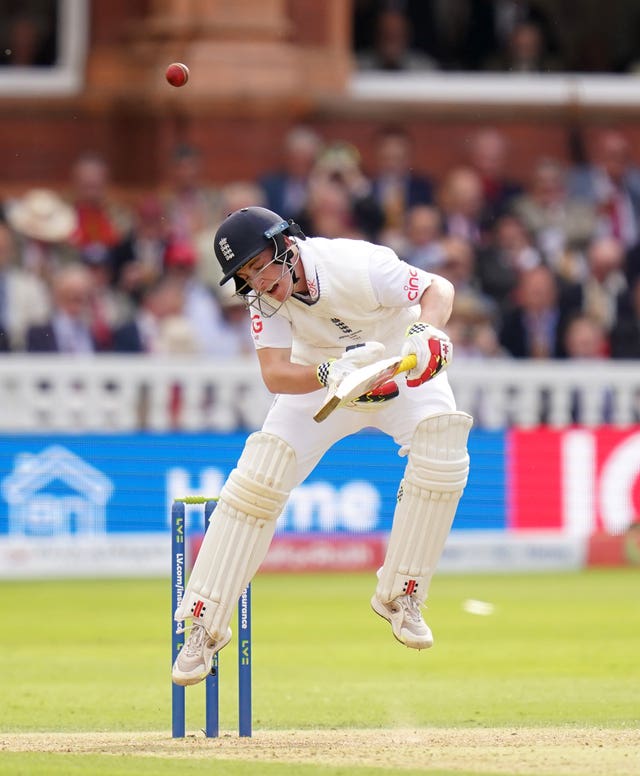 Brook was one of several England batters to walk into the face of a barrage of short-pitch bowling during an entertaining evening session on day two.
Runs followed, but so did wickets with Duckett, Pope and Root all picking out fielders on the boundary rope.
It sparked debate over whether a more conservative approach should be taken, especially given the extra load now expected of the Aussie seamers in Lyon's anticipated absence.
Brook kept up the aggressive 'Bazball' mantra and enjoyed one life when Marnus Labuschagne put down a sharp chance, but Stokes was surprisingly more measured.
It was the type of captain's knock England needed to ensure they did not lose their momentum.
Smith loves Lord's and England!
Australia's Don Bradman – 19 against England
India's Sunil Gavaskar – 13 against West Indies
Australia's Steve Smith – 12 against England
England's Jack Hobbs – 12 against Australia
India's Sachin Tendulkar – 11 against Australia
Smith produced another superb Ashes innings of 110 and reached three figures with a gorgeous cover drive. Records tumble when the idiosyncrasies of the Test great are on display at the crease.
This effort was not only his second century at Lord's, after hitting 215 in the 2015 series, but also the eighth time he has scored a Test hundred in England. His tally of 12 in Ashes Tests has moved him up to joint-third on the list of most centuries against one team.
But Don Bradman's mark of 19 hundreds against England remains a little out of reach though.
Creepy crunches another
Smith had a couple of contenders for shot of the day but Zak 'Creepy' Crawley deserves the honour for his sumptuous drive straight after lunch.
It was not punched away like his first ball at Edgbaston, but was played with the pleasing sight of a straight bat and helped the Kent batter make 48.
However, fellow opener Duckett stole the show with arguably his best Test innings for England.
There would be no crowning century, after he pulled Josh Hazlewood to David Warner at fine leg on 98, but his array of square drives and cuts backed up his desire to continuously get bat on ball.
Home of cricket turns red for Ruth
It was another hugely successful 'Red for Ruth' Day with more than £400,000 raised for the Ruth Strauss Foundation. Ex-England opener Strauss set up the charity in memory of his wife Ruth, who died in 2018 from a non-smoking lung cancer.
The foundation supports thousands of families that deal with the impact of a terminal cancer diagnosis. More funds will be raised with items to be donated, including the match-worn clothes of both England and Australia.
Strauss and his sons Sam and Luca rang the bell before day two and witnessed a Lord's covered in red.
"A tough day, an emotional day and a beautiful day," Strauss reflected. "It is great to have my boys with me to see everything Ruth stood for. It helps to know we are helping so many families."


#Day #Ashes #Test #England #eye #firstinnings #lead