Venue:
All England Club.
Dates:
3-16 July
Coverage:
Live across BBC TV, radio and online with extensive coverage on BBC iPlayer, Red Button, Connected TVs and mobile app. More coverage details
here.
Wimbledon supporters have criticised the organisation of the queue after increased security checks slowed entry, causing frustrated fans to leave.
More than 12,000 people were queuing in Wimbledon Park, next to the grounds, with some having camped overnight.
Wimbledon said it had boosted security after the protests from the Just Stop Oil group at recent sporting events.
"We have missed a whole day's play, I would never ever do it again," Chrys Meade told the BBC.
"We were told it was unexpected numbers, but why are you letting people in [to queue]? Then they are telling us security was not enough to cope with the numbers.
"We're just obviously disappointed. It's four o'clock and we are nowhere near there [the front] yet."
Play began at 11:00 BST, but just before midday organisers advised people not to travel to join the queue.
The queue has become a Wimbledon tradition, with 500 tickets available for each of the main three courts – Centre Court, Court One and Court Two – with the remaining fans able to buy ground passes to watch the outside courts.
Last year the queue returned to Wimbledon having not been used in 2021 as a result of the Covid-19 pandemic, which also caused the 2020 tournament to be cancelled.
Just Stop Oil activists interrupted the first day of the second Ashes Test between England and Australia at Lord's.
That followed similar protests by the same group at the rugby union Premiership final and the World Snooker Championship, while animal rights activists delayed the start of the Grand National race this year.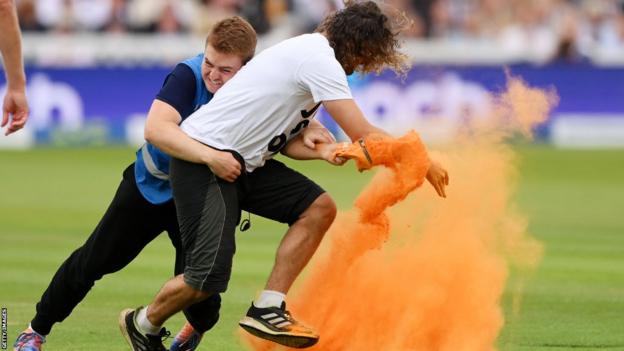 An All England Club spokesperson said the increased security operation was slowing down the entry process, adding: "There has been high demand from members of the public to join the queue on day one at Wimbledon.
"Understandably, our security team on the gates are conducting an enhanced bag check operation.
"While there has been a steady stream of guests entering the grounds since gates opened at 10am, entry via the queue has been at a slower rate than in previous years as a result of these checks.
"We sincerely thank guests in the queue for their patience and understanding."
But some fans criticised the lack of communication and the facilities on offer.
Becky Deeming arrived to queue at 3.45am on Monday and got into the grounds at 1.15pm. She told the PA news agency: "There was no water, nowhere to sit, it was the longest queue.
"Everyone around us had done it multiple times and they said: 'We have never seen it like this.' People were getting up and leaving."
Operations director at Wimbledon, Michelle Dite, told the BBC delays in the queue were due to extra bag checks being carried out by security.
"We had one of the highest attendances at Wimbledon since 2015," said Dite.
"We have a lot of security and we want to make sure everyone is safe and secure, so it did cause some delays yesterday. We did extra bag searches, but we've reviewed how everything operates and sped up our ticket sales. Every single part of the chain we went into detail last night and we're set to go.
"One of the joys of Wimbledon is everyone can come on the day and get in. This doesn't happen for many other events. The resilience for the queue was world class.
"We believe people are going to queue – that's why it's called the queue, we believe people know what they're getting in to. But [on Tuesday] it's going to be be slick, quick."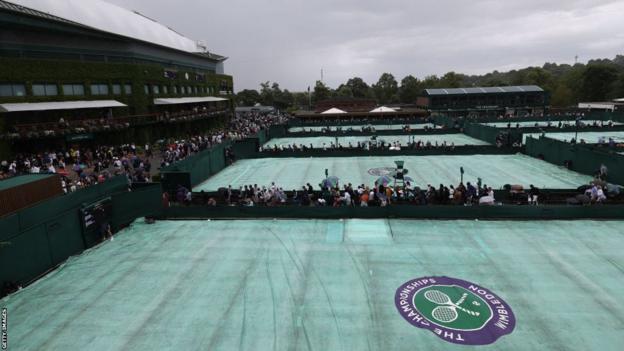 Georgia Jeffrey, trying to attend Wimbledon for the first time, said the whole experience was "hugely disappointing".
She told the BBC: "Six or seven hours of people standing in the same field, it has got a bit hectic, the toilets especially, they are not flushing any more so it has been a bit grim.
"This is my first Wimbledon and I've lived locally for a few years so this is my first go. It's just disappointing, especially for the people that have come so far."
Sally Bolton, chief executive of the All England Lawn Tennis and Croquet Club, told journalists there is "100% bag search" and "selective body search" at all gates.
"We've taken account of what we've seen elsewhere, so security has been uplifted in various places around the grounds," she added.
"We're extremely confident the measures we've got in place are the right measures and we're ready to deal with something if it happens."
Earlier on Monday, the Wimbledon Twitter account said: "Our grounds are set to be at capacity today, which means those already in the queue will be waiting several hours for admission. We advise people intending to queue today not to travel to Wimbledon."
A Metropolitan Police statement said: "A policing operation is in place for The Championships, including both generalist and specialist officers, to prevent crime and disorder and to be able to provide an effective, timely response to any emerging incidents at the location and right across London."
Warnings had also been issued around potential disruption to train travel after train drivers' union Aslef said its members would withdraw non-contractual overtime with 16 of the country's 35 rail operators for six days from Monday.
Seven-time Wimbledon men's champion Novak Djokovic and five-time women's champion Venus Williams were among those in action on Monday, while a rain delay led to no play on Centre Court or the outside courts for more than an hour.
Wimbledon will run until 16 July, with two-time champion Andy Murray and reigning women's champion Elena Rybakina among those in action on Tuesday.


#Wimbledon #Queue #criticised #fans #long #entry #delays #day