Sebastian Eguez Paz is the current coach of Elizabeth Mandlik and has been coaching the daughter of 4-time grand slam champion Hana Mandlikova for several years. Since forming a partnership with Eguez Paz, she has seen a dramatic rise in the rankings. He spoke with Tennis View to discuss his life as a coach, Mandlik, and the sport of tennis.
What is your background in tennis?
I played college tennis for a D1 school – Northern Arizona University. We won the conference twice, which was a very nice college experience. After I graduated from college in 2018, I tried to play professional tennis and I got to 1100s ATP. Afterward, during Covid, I was working as sparring and coach of some pros around Delray Beach and Boca Raton. That's how I got to meet Elli.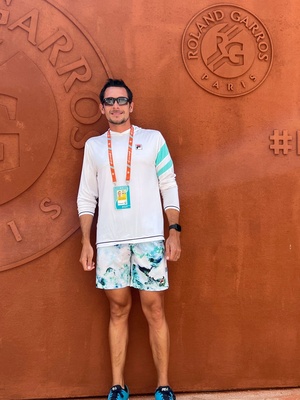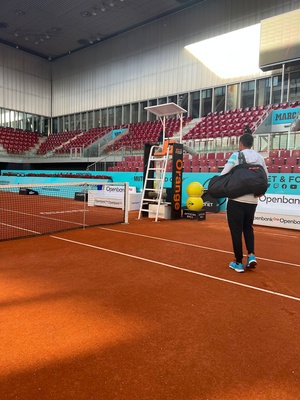 What are some highlights of your playing career?
 I got a few wins in the main draw of some 15ks, and I got into the finals of Doubles of one in Argentina.  
When did you decide to transition from player to coach and how did you make that decision?
 I was playing professionally and at the same time traveling as a traveling coach for Elli (Mandlik) throughout some ITF tournaments. I wasn't doing better, and Elli was starting to win tournaments back-to-back. Then Elli had to go for bigger tournaments, and I had to decide if I wanted to keep trying to reach a higher ATP ranking or go for her dream and help her out as much as I can and have her dream as my dream too. 
 What would you say your style of coaching is?
 I would say that I adapt to the player. First, I help to identify the player who she/he is on the court. Then, I work around that and at the same time, I get to know the player's personality so I can also adjust for the player so we can connect and have a great time on the court. 
 You are currently touring with Elizabeth Mandlik. How do you approach touring with a player as opposed to working from a home base?
 Well, for me, it's not work. For me it is a dream that I can go to all the big events around the world. Most importantly, that I can work with a player who respects me, has a great personality, always works super hard, trusts me, and appreciates every day I work her. This is the reason why I don't think I work. I love tennis and to be able to work with someone like Elli is a dream. 
 Mandlik has risen from world no. 504 to her current world ranking of 113 since 2021. What would you attribute that to?
Actually, I started with her when she was 695WTA, I believe I did a lot to achieve that but only because we worked as a team, and we grew as a team. The connection and the chemistry on the court was the key to that success. For me, that's only the beginning of something huge in the next years.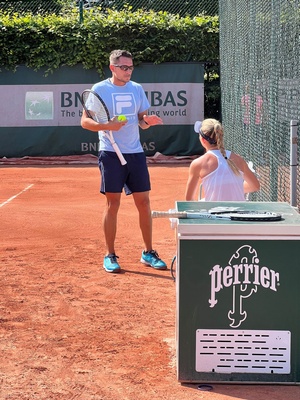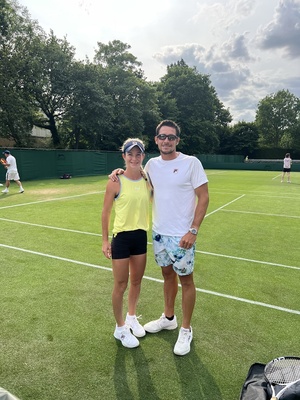 What is your goal for the remainder of 2023 with her?
 I want to finish the year top 80 with her so we can make sure we are set for all tournaments coming up in the beginning of 2024. I have other personal goals that I cannot share because she will read it and I don't want to scare her (laughs).
 What advice would you give new coaches based on your experience?
Do it if you really love it. Otherwise, it's not going to work. This is not for everyone. Players feel when you have passion, and you love what you do. Players feel everything about you, so if you are not going to give your 100% it's not going to work out and you won't be successful. The key to success is to have passion and give your 100% every day. Working because you care about the player and not working because you need to make more hours so you can get paid more. 
  As a coach, how do you see the sport of tennis evolving in the coming years and how do you approach any changes?
I see it evolving very fast due to the fitness coaches, supplements, and new technology for rackets and stats. I feel like there are no secrets anymore and everyone knows what they need to do to become a champion. I see tennis more and more competitive than ever, so the only thing I can do with my player is to train harder than everyone else and be ready mentally to face anyone in the world. 
 What do you think makes a successful tennis coach?
Caring is a very strong assessment. If you care you give your 100%, if you care you are willing to apologize if you do something wrong, and if you care you are willing to listen to the player more and more, so you don't build up an ego. 




#Coachs #Corner #Sebastian #Eguez #Paz